Flock's Appetite Guide is designed to help our broker partners understand what kind of fleets we are able to offer terms on.
Flock's Connected Fleet Insurance is available to commercial fleets in the UK working across self-drive hire (SDH), courier, trades, and own goods delivery.

This includes Amazon Delivery Service Partners and wholesale food distribution fleets.
10+ vehicles for courier, food distribution and self-drive hire
20+ vehicle for trades and own goods delivery
See a summary below or download the Flock Appetite Guide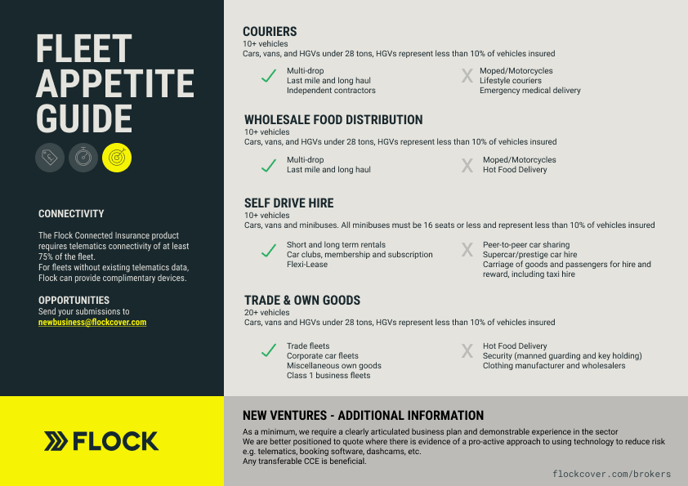 Additional requirements for New Ventures.
At Flock, we are primarily interested in working with new businesses harnessing connectivity to enable modern mobility solutions. That means submissions in this category must be sent with the following information:
A full fact find(available on request)
A detailed business plan
Copy of the motor trade claims experience if the client has been trading under a COI model
Full details of the director's experience


---
If you're a broker interested in distributing Flock's connected fleet insurance here to apply.
If you operate a fleet looking for insurance, ask your broker about Flock today.
---
Ready to become a Flock broker?